Standing Hina doll Kissyo
The doll is Japanese hina doll. Hina Festival is culture that we celebrate for girls and hope their good health and growing well. The doll is standing type of Hina. We decorate it 3rd March.The color is very good blance.The emperor doll is drawn pine trees,a bamboo,and plum flowers.
The empress doll is painted plum flowers on her body.The doll is made carefully.
Material/Ceramic
Made in Japan
| | |
| --- | --- |
| Products | Standing Hina doll Kissyo |
| Size | H15 * W18 * D12㎝ |
| Weight | 320g |
| Code | A460815 |
Vendor: Koto Kyoto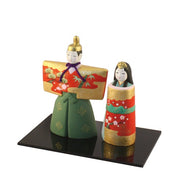 Standing Hina doll Kissyo