Coin Purse (Gamaguchi)—TSUBAKI PATTERN
The elegance of gamaguchi (Japanese coin purses) catches the heart of anyone who sees them. "Gamaguchi" means a frog's mouth and refers to its unique shape. These purses offer a wide opening for convenient access to their compartments and close with a single gesture.

These coin purses are made from a mixture of Chirimen and polyester. Chirimen is one of Japan's most celebrated fabrics thanks to its use in breathtakingly gorgeous and elegant kimonos. Made by weaving plain silk yarn and characterized by little bumps on its surface, it is also tough and practical in many ways. We use Nikoshi Chirimen, made in the Tango Peninsula, located in the northern part of Kyoto Prefecture, and dyed in Kyoto City.
This one features a camellia flower (Tsubaki) pattern. The red flowers symbolize love, and the white ones show longing. As camellia bloom in the winter, they inspire hope for the coming spring.

We have two sizes available; small (9 x 9 cm) and large (11 x 11 cm). Many customers tell us they like how their gamaguchi coin purse easily fits into their handbag.
Vendor: kotokyoto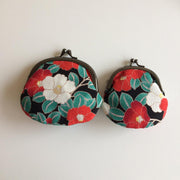 Coin Purse (Gamaguchi)—TSUBAKI PATTERN