HANDBAG KOTO KIMONO obi BAG (rattan basket bag beige)
This typical Japanese handbag is made in Kyoto.
Size : W300×D160×H280mm
Material : rattan, cotton, Silk (Kimono belt)


It is a kimono belt (Obi) handbag that can be used in two ways.
Using rattan basket bag and kimono belt (silk fabric), it is a perfect bag for adult women who pursue the real thing.

The Obi (pattern) part can be easily removed, and you can use it as a rattan basket  bag by removing it.
We recommend to use it on your clothes and kimono.
You can also enjoy coordinating it with another kimono belt (sold separately).
Vendor: kotokyoto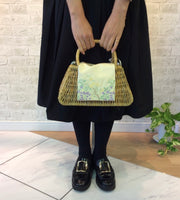 HANDBAG KOTO KIMONO obi BAG (rattan basket bag beige)