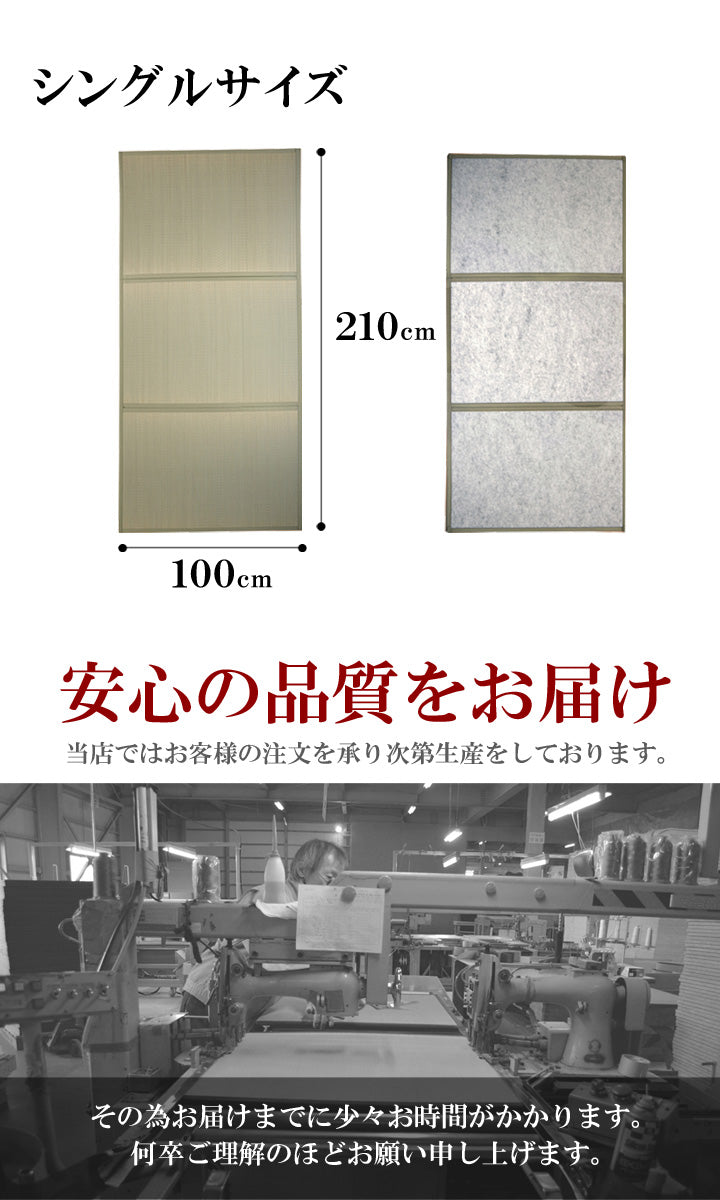 Folding Tatami for Wooden Floors (3 Size Options)
About Tatami
Tatami is a type of mat used as a flooring material in traditional Japanese-style rooms. They are covered with soft woven rush (igusa) straw.
Igusa is natively grown in Kumamoto Prefecture, located on the southern island of Kyushu. Igusa tatami mats are long-lasting. Their signature grassy fragrance keeps spaces fresh and is soothing. The smooth texture is comfortable to walk, sit, or lay on.
Igusa ensures tatami are comfortable all year round. In the summer, these mats are appreciated for absorbing and deodorizing properties, which help keep rooms comfortable and dry.
Product
Dimensions:

 We have three size options available. 

Most customers purchase several sets to suit the size of their room.

Color:

 Natural (starting as a soothing light green and fading to a cozy light beige over the years).

Format:

 Connected (can be folded for storage).

Material:

 The top/front is Igusha (rush), and the backs are covered in felt.
Usage
Pressure:

 Avoid walking on tatami with shoes or placing heavy furniture on them.

Cleaning:

 Clean with a dry or (slightly damp) cloth. Vacuum cleaners are fine as long as they are gentle to the tatami mat surface. Do not mop, wash, or sweep. Avoid soaps, cleaning liquids, or harsh cleaning sprays.

Winter:

 In the cold months, tatami remains comfortable, though many like to place a rug on top for additional insulation and enjoy the aesthetic color contrast.
Vendor: kotokyoto
Folding Tatami for Wooden Floors (3 Size Options)