Domestic vegetables/Seasoning mix for sushi 150G
○
Domestic vegetables (carrots, lotus roots, shiitake mushrooms)
、
Unbleached dried gourds made with domestic yugao fruit、
Gomoku chirashizushi made with ingredients such as deep-fried domestic soybeans and finished with "Echizen Benigo Organic Pure Rice Vinegar", which uses domestically grown rice organically grown with natural water.


○
Sugar is sugar from Hokkaido, soy sauce is soy sauce made from domestic whole soybeans, and salt is less umami, bringing out the umami of domestic vegetables.


○
Just by mixing it with rice, you can easily enjoy a full-fledged "chirashi sushi" with a gentle sourness, a mellow taste, and an elegant and gorgeous aroma
○
We value the taste of the ingredients and do not use any chemical seasonings or preservatives.


○
The soybeans used for deep-fried tofu and soy sauce, which are raw materials, are managed separately from production and distribution to prevent contamination with genetically modified organisms.


○
This product is for 2 go (2 to 3 servings).

【raw materials(
Origin: Japan

)
Vegetables [carrot, lotus root, shiitake mushroom, sugar: [beet (produced in Hokkaido)], organic rice vinegar, fried tofu [contains soybeans], salt, soy sauce [contains soybeans and wheat], kanpyo, dried bonito extract, yeast extract

 
召し上がり方・使い方
1、Cook freshly cooked rice (about 5 to 6 go in a bowl: about 700g) or 2 go of rice, transfer to a large bowl, and put the ingredients in the bag on top of the rice.
2、Mix the rice while it is hot and cool it with a paper fan.
3、Arrange it in another vessel and it's done. If you like, add thinly sliced ​​egg, mitsuba, shrimp, etc. to make it even more delicious.
Allergen
wheat/soybeans
Vendor: kotokyoto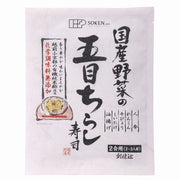 Domestic vegetables/Seasoning mix for sushi 150G