This barley(Mugi) miso is additive-free.
Domestic raw materials(nude wheat, soybean) and natural salt only. This miso is sweet and low in salt, it was  naturally aged without heating.  Barley(Mugi) Miso is also known as "Country Miso" in Japan, it has simple and nostalgic taste.
It is a "Natural(living) Miso" that does not use alcohol and it's not heat-treated. Therefore, it has a breathing valve in the center of the top label.

The aging period is about 3 months, which is a relatively young miso. this miso is a white with a faint sweet scent of Koji.
【Ingredients】 Nude wheat (Product of Shikoku)・Soybean (Product of Kyushu, GMO-free)・Natural salt
【Preservation】 Keep in cool and dark.
【Expiration-date】 180 days
【Amount】500 g
【Aging period】About 3 months
【Salt】8.4%
Nutritional Information(100g)
Calories・・・217Kcal
Proteins・・・7.1g
Fat・・・3.1g
Carbohydrates・・・・40.1g
Sodium・・・3,310mg
(Sodium chloride amount・・8.4g)
This is a low-salt miso with 21% LESS sodium than Standard Table Of Food Composition in Japan "Barley (Mugi) miso".
Vendor: Koto Kyoto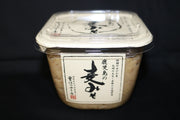 Barley(Mugi) Miso 500G