USUIRO SOY SAUCE WITH DASHI ( BROTH ) 1000ml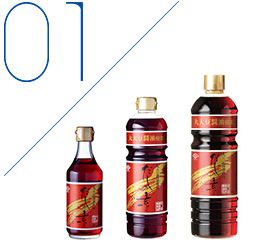 IT IS A PRODUCT WITH NO ADDED CHEMICAL SEASONING
It is not only as dashi but also as soy sauce

"Dashi no USUIRO" is very useful for various purposes such as Boiled vegetables, Sukiyaki, and Noodle Soup. The bonito flakes and kelp flavors are condensed in, making it more delicious !
Of course , some people use it as only soy sauce.
We recommend also  KOIIRO SOY SOUCE which is  more dark color than KOIIRO
INGREDIENTS / soybeans・sugar・water・ rice・ salt・bonito・kelp extract・seafood extract・leaven extract

ALLERGIES / flour・soybeans

NUTRITION FACTS*Amount per 100ml
calorie134kca, protein 6.4g, fat 0.0g, carbohydrate 27.2g, sodium6.4g, salt16.3g

Vendor: kotokyoto
USUIRO SOY SAUCE WITH DASHI ( BROTH ) 1000ml